Heya Zswaggers!  I am gonna give my all tonight on DWTS!  I hope you all tune in and vote:)  I seriously love this photo made by one of my awesome Zswaggers!  You all have shown such incredible love and support for #TeamValDaya! * #Zswaggers #ZswaggersGoHard #DWTS #ValDaya #TeamZendaya *  I'm so #blessed !!!

Much <3,
- Zendaya
p.s. DFTS
Watch Zendaya and Val at the DWTS rehearsal with Sweety High's Sweet Beat TV.

Heya it's me Zendaya! Last night was soooo much fun! I'm so glad I got to go to prom:) Thank you to all my Zswaggers who tweeted and tweeted to get me the crown! I am so blessed! I hope you all know that!!
Now, it's back to work on a new dance for next week!!!
LOVE YOU ALL<3
- Zendaya
p.s.DFTS:)
Zendaya's Dancing With The Stars Blog: Dedicating Her Dance To Her Grandma (April 2, 2013)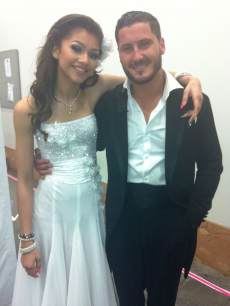 Access Hollywood
LOS ANGELES, Calif. –
In her latest post for AccessHollywood.com, Zendaya talks about her latest "Dancing with the Stars" routine and its special dedication to her grandma…
Hi Access Hollywood readers and all my ZSwaggers!
Last night was prom night at DWTS and since I'm only 16 I've never been to prom!
Morning Zswaggers! Last night was so special for me. This dance was for my grandma:)
Hope you all enjoyed and remember to VOTE for #TeamValDaya!
Much love<3
- Zendaya
p.s.DFTSL)
#DWTS #TeamValDaya 1-800-868-3406& abc.com, facebook.com & txt "VOTE" 3406

Hiya! Hope all my Zswaggers are having a nice day! Thought I'd share this video of me on Jimmy Kimmel last night in case you missed it:)
Hope you enjoy!!
Much Love <3
-Zendaya
p.s. DFTS:)
Heya Zswaggers!  Hope you all enjoyed last night's DWTS show:)  I had a blast dancing the Jive again!!  Thank you all so much for your Votes and support!!
I AM SOOOOO EXCITED TO ANNOUNCE THAT I will be on "Jimmy Kimmel Live" tonight! Hope you all tune in!!
Much Love<3
- Zendaya
p.s. DFTS:)
WATCH Zendaya on "Jimmy Kimmel Live" TONIGHT, Wednesday, March 27, 2013 at 11:35 PM/10:35 C